Have you ever made a S'Mores Dip? It does look messy, but what S'More treat isn't.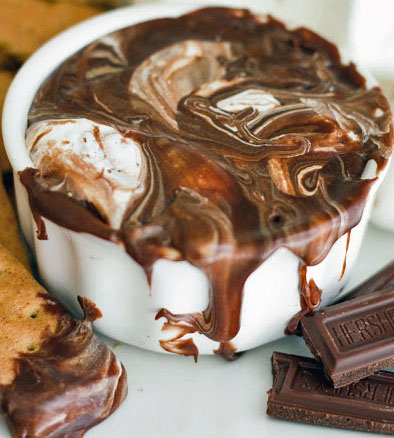 You will soon find that this is a family favorite.
S'mores Dip
Ingredients:
1 14 ounce can sweetened condensed milk
1 1/2 cup chocolate chips
1/2 cup marshmallow cream
graham crackers for serving
Directions:
1. You're going to use the microwave to melt the chocolate chips into the sweetened condensed milk. Use a microwave safe bowl. This melting process takes about 1 to 2 minutes, but you're going to have to stir the mixture every 30 seconds.
2. Once the chocolate chips have melted, pour the mixture into a 9 inch glass pie pan. You'll then add the 1/2 cup marshmallow cream by the spoonful randomly placed throughout the chocolate mixture.
3. This goes into the microware for 20 to 30 seconds until the marshmallow cream has softened.
4. Next you want to create a marbled look throughout the mixture. I use a graham cracker to do this so I can get the first bite of this delicious dip.
5. Serve in a pretty bowl with graham crackers on the side.
This is a great summertime treat that will be enjoyed without a campfire or dropping your marshmallow into the fire or burning it to a crisp.
This is a popular treat for any time of year, but it does bring back memories of the traditional S'Mores.