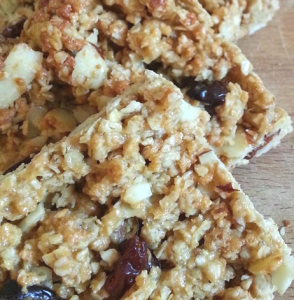 These delicious oatmeal breakfast bars are gluten free with cherries and almonds, but you can add other fruit of your choice to make these extra special for your family. That's what is so wonderful about this recipe, this is only the beginning, not necessarily the end result.
Ingredients:
1/4 cup dried cherries or dried fruit of your choice

1/4 cup sliced almonds

1 & 1/2 cups oats

3 tablespoons honey

1/4 cup peanut butter or nut butter of your choice

1 egg

1 egg white

1 teaspoon vanilla extract

3 scoops whey vanilla protein powder
Directions:
Heat oven to 350

Mix vanilla, peanut butter, honey and egg.

Mix oats, almonds and cherries.

Mix together the wet and dry ingredients.

Press mixture into a foil lined pan.

Bake 15 minute until golden.

Cool before cutting into bars.
Now you have an easy nutritional breakfast or anytime treat for your family. This recipe makes approximately 16 servings.