For many J. K. Rowling fans, it was a sad day after the release of the last Harry Potter book . . .
Then there was a high point with the release of the movie . . . Another with the release of the DVD .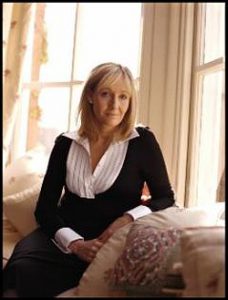 . .
There were other books published, but none as popular and beloved as the Harry Potter saga. Then miraculously came Harry Potter and the Cursed Child, Parts 1 & 2, Special Rehearsal Edition Script.
Of course it was an Amazon #1 Best Seller with all the pre-orders placed in anticipation of the release date of July 31, 2016.
Now there's Fantastic Beasts and Where to find Them: The Original Screenplay to be released November 18, 2016. Yes, it's available for pre-order now at Amazon — of course, being a #1 Best Seller.
Yes, there is a film coming out of the same title in November the day before the book release. There is no mention of when the DVD will be available for pre-order . . . I'm sure many are anticipating that.
J. K. Rowling has written a novel for adult readers, The Casual Vacancy. She writes crime novels under the pseudonym Robert Galbraith. But, they don't seem to fill the void many fans feel. There are mixed reviews regarding the script format of The Cursed Child and Fantastic Beasts and Where to Find Them. Sure we'll buy them, but we want a novel to emerge ourselves into the printed words and imagination of the master story teller, J. K. Rowling.
It is that time of year when many of us are re-reading the Harry Potter books . . . and watching the DVDs . . . We have to once more delve into the wizardly world . . . It's like visiting an old friend. And that's exactly what J. K. Rowling has brought to her many fans . . . old friends, Hogwarts . . . with a brief look to the future with anticipation of more to come . . . I hope we won't be disappointed.
Here are some links you may find helpful . . . I'll try not to get carried away:
I'm looking forward to November!
Thanks for stopping by!
Sharon