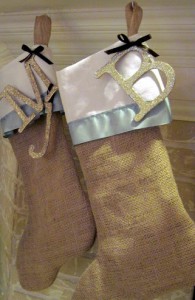 I like the rustic look of these stockings. At your favorite craft store you can get wooden letters to adorn them or put names on them using fabric paints. These letters have been "glitterized". Glitter isn't my thing, it gets all over everything, but for those of you who are into it — go to town!
As you've probably guessed these Christmas Stockings are made from burlap, but you can use whatever fabric you choose. I know of a woman who used leather and vintage fur and baubles to dress them up. She also got into a denim style with pockets. There are no limits to what you can do with stockings.
I think a "western" style might be nice with interesting handkerchiefs for adornment and use denim, too. I like the idea of having pockets on the outside where you can tuck in little goodies and also put in candy canes. They make such a nice variety of them in all color combinations and flavors.
Here's another image showing off the mantle in a rustic style. It's nice to bring the outdoors in with your decorating. I do like pine cones and the "southwestern" style this gives. It's amazing what can be done with garden or artificial clippings, ribbon and imagination. It's also nice to be able to bring in some family heirlooms or go to a thrift store to find just the right things. I know many from different cultures who like to bring that into their decorating, too. People who travel have some items they picked up and this is a perfect way to display them, too. 
I know I moved away from stockings, but the whole mantle comes into play as you try to tie everything together to make an interesting focal point that attracts the eye of your visitors and guests.
I do have some free templates for you. They're of the stockings in three sizes:
Now, for the cuff, you'll need to work that out and the burlap loop. The loop is no big deal, just a strip of fabric and sew it on your stocking. I was thinking about the cuff. You could fold it down and then sew fabric on it. You can also add to the top of the template — if it doesn't fit on the size paper you use in your printer, you can print out another one and tape the extra section on your template to make it longer or free hand it.
You may want to do some interesting decorating with bells, garland strips, fake fur and who knows what you'll find that will make these stockings special. I do like giving you the basics and then you get your imagination and creativity into high gear.
I hope this Rustic Christmas Stocking images and the mantle were food for thought and the article was helpful. We always get ideas from seeing what others do and then make our own to fit our taste and preference.
I included three sizes of stocking templates. You may be able to re-size them to create the size you want. I thought the small ones would be nice to put silverware in for your Christmas dinner. There are lots of things people do for that purpose. They'd also make excellent hostess gifts filled with goodies.
Thanks for stopping by!