I've been working on some crafts for Halloween.
I found this cool image of Frankenstein's monster . . . but he looks more like a Stanley to me . . . What do you think?
I thought he'd be great to use to cover up a full-sized Hershey chocolate bar . . . maybe have a ribbon slider to help tuck the candy bar in and a handy way of getting it out without destroying the cover.
He's a pleasant looking chap who would fit right in with young children . . . no reason to do anything scary. And he is just goofy enough older kids may enjoy him, too. And adults may discover he has a strange resemblance to someone they know . . . or someone they saw recently . . . or maybe even a relative . . .
He'll be keeping some candy bars safe for me this Halloween . . . I will be handing them out . . . just like to make up some fun things for family, friends and neighbors.
I could put him on some coffin boxes that I'll fill with candy . . . and he may find a place in Halloween cards I make and also in a Halloween mini-album. I kind of like him . . . he may be able to help me tell a Halloween story . . . If he's not too busy hanging with his friends . . . He is quite likable and people seem to be drawn to him . . . He is mild mannered . . . soft-spoken and loves Halloween candy.
You may find him walking around your neighborhood this coming Halloween . . .
I was looking for some suitable friends for Stanley.
I thought a scarecrow would be fun, but the only image I found was one holding a sign.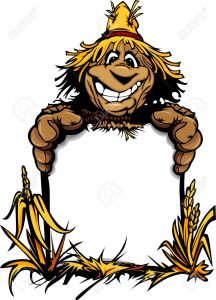 He looks like he is friendly enough to be Stanley's friend. He also looks a bit like a bear. . . and he does seem a bit scary . . . He does have a job to do . . . scaring away the crows from eating the crops.
There was also one of jack-o-lantern, too . . . and one of Stanley holding a sign . . . maybe they would work for my candy bar wrappers with a message of Happy Halloween or Trick-or-Treat!
Maybe they could have an appropriate poem . . . something for me to think about . . .
They may be better suited to fit on a box filled with Halloween goodies . . . or on a Halloween card with a special treat inside . . . something for me to work out . . . That's why it's good to plan way ahead.
I do need to add the image of the jack-o-lantern for you to see. He does have a strange resemblance to the scarecrow . . . something about the eyes and the smile . . . maybe from being in the hot sun all summer . . .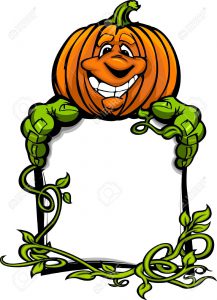 He does seem to be a happy chap . . .
There is also a mummy I found that seems to go along with them. He's happy enough. With the same smile as the scarecrow and jack-o-lantern and the goofy eyes . . . He'll get along just fine with the others. He's traveled quite a long distance from Egypt to join the group this coming Halloween. I'm sure he has some tales to tell of his great adventure.
The scarecrow and the pumpkin have been attached to the land where they were planted . . . or staked . . . so I'm sure they'd be eager to meet Stanley and the mummy . . .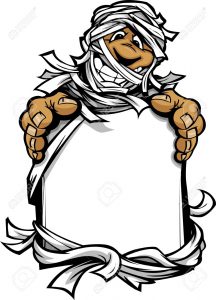 I'm sure they'd enjoy a nice cold glass of root beer after a long summer day in the sun . . . I'll have to suggest that to Stanley when he goes visiting . . . Of the soft drinks I've discovered Stanley does prefer root beer to the colas . . . and he's not a fan of ginger ale or the lemon-lime variety or other fruity soft drinks.
I haven't spent as much time with the others to discover their habits . . . they do drink plenty of water during the day . . . but a soft drink may hit the spot when they gather in the evening . . .
Stanley isn't fond of fire . . . so making s'mores is out of the question . . . I'll give him a flashlight so he can find his way . . .
Now that I've gotten a good look at the others . . . I'm not sure if they're holding a sign or are wrapped around a tombstone . . . What do you think?
I wonder if I should find some other friends for Stanley . . . yet he may feel right at home with tombstones . . .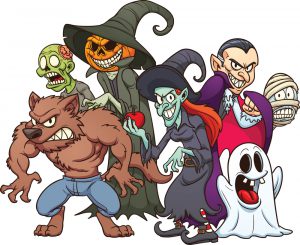 This other group of . . . characters . . . don't seem to fit in with Stanley . . . Maybe he deserves to stand alone . . .
Well, nature will take it's course and Stanley will find his place in the world with friends of his choosing. I'm sure he'll do quite well on his own.
This last group of . . . don't seem to want to be friends . . . they have a bit of an agenda all their own . . . If I thought the others had goofy expressions . . . These . . . are enough to give you nightmares . . . No, I definitely wouldn't like to see them on a dark night . . .
I do hope this was a bit entertaining . . . It certainly was colorful.
Until next time,
Sharon