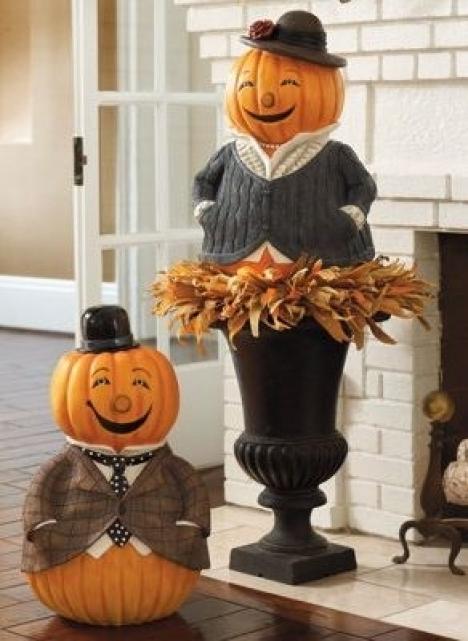 Too often scarecrows are associated with Halloween, but there are plenty of gardens and fields that have a scarecrow displayed to keep the crows from feasting on the crops. I do love scarecrows. They could be compared to the winter snowman, that I also adore. It's all about how to dress them up. And what to use to create the image you want.
This happy pair of scarecrows could be made to last throughout the years. As you can see from the image Mrs. Scarecrow has a lovely pedestal base with a nice leafy trim on her sweater. I absolutely love her pearls, but I would go with a papier-mache pumpkin head and may begin with a straw hat and change it out as the season changes. I could also get into having a nice hat with feathers to give it some zing . . . and a feather boa may work nicely for the trim on her blouse or sweater. I'm also thinking of making her into a 20's flapper . . . which would bring a more fun and somewhat whimsical flavor to your garden — a delightful display for a summer celebration.
As for Mr. Scarecrow, I'd find a bushel basket for his body and also add a papier-mache pumpkin head. I absolutely adore his sports coat and hat. His attire could be altered to fit in the season or the formality of your vegetable or flower garden.
Initially, I thought of Laurel and Hardy when I glanced at this pair of happy scarecrows.
This is a spring project that will "grow" with me throughout the summer and fall. Then to be replaced with snowmen that could be equally fun and delightful to dress up until we return to spring. I just love it when home and yard decor can be fun and last for quite a few seasons. This jolly pair would also be welcome for Thanksgiving.
I know you're thinking!! I can feel the excitement of getting started on your happy pair of scarecrows. 
Thanks for stopping by!