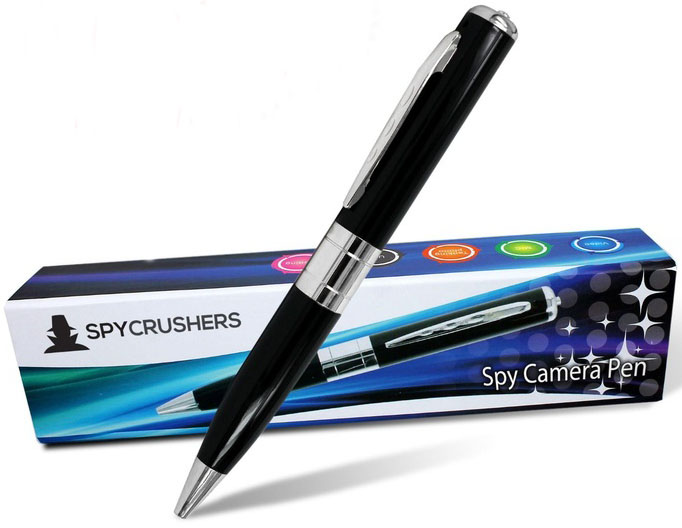 Ever wish you had a camera when something was going on? It's usually those times when you say to yourself, "No one's going to believe this."
Too often it's after the fact or by the time we grab the camera whatever we wanted to record is over. The moment has been lost. Or we didn't think to get a camera or there wasn't one handy. Now, that won't happen again with this SpyCrushers Camera Pen. It's readily available with these excellent features:
HD Quality Digital Video Recorder
8GB SD Card Included
Easy USB Plug & Play For PC's & Mac's
Best Spy Camera Pen Pinhole DVR
Real Writing Executive Style BallPoint Pen
30 Day Money Back Guarantee
By Spycrushers®
Instructions are emailed upon shipment
With Back-to-School on everyone's mind, wouldn't this be excellent piece of mind to know your student, no matter the age is equipped with this spy camera pen. This may put a stop to some of the bullying or hazing or whatever one calls it these days. It would be wonderful documentation of what is really going on.
This works well for adults, too, especially in those "he said, she said" situations.
In the back of my mind I'm hearing, "It's not nice to spy on others."
The simple truth is there are cameras all over, some we may be aware of, but most we are not. Every person has a cell phone that is camera ready, so why not a spy camera pen.
If you want to change behavior at your local market — in the bakery or deli section, this spy camera pen does the trick. I was disgusted that the person behind the counter didn't change gloves from one customer to the next. So if someone got sliced roast beef and I wanted sliced cheese, there was cross contamination of the roast beef in my cheese. And who knows whatever else before I made my request.
The store manager didn't think I was serious when I told him I could prove it. Once he saw the evidence, he was afraid of what I would do with it.
The bottom line is we do need to stand up for what is right. Maybe the employee was lazy and didn't want to change gloves. Maybe there was a store policy to cut down on expenses. I didn't know and I didn't care. I wanted clean food. It does make your wonder.
You can probably think of dozens of uses for this spy camera pen. It's all about our safety and that of our family.
As far as I'm concerned, everyone should have one regardless of age. Once you know how to use it and not flash it around to impress your friends or try to catch them in embarrassing situations, this can be a valuable asset for every member of the family.
Here are some helpful links:
Thanks for stopping by.