It's all a matter of perspective.
I find it refreshing to sit back and observe . . . nature, people, pets . . . just watch and learn.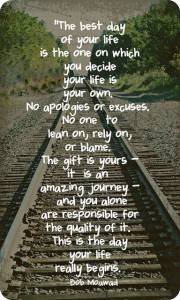 At times it is difficult to sit quietly. I sometimes feel I need to be doing something . . . or at least thinking about something . . . about my blog or a project . . . something meaningful and worthwhile.
I did receive an email about "breaking the cycle." It was about getting your emails and posts noticed . . . but I wasn't thinking in terms of marketing. I was thinking in terms of life. We are creatures of habit. We schedule time . . . we're always on the clock.
But, break the cycle . . . even for 5 minutes . . . or a minute and build up . . . what would that do? How would that affect our day? Would we gain insight?
I came across this quote on Pinterest about taking charge of your life without excuses or blame. Too often we give our power to others . . . out of foolishness, not knowing better, perhaps fear . . . it's always easier to blame others or situations than to take a long hard look at yourself and realize you can make the changes when you stand up and take charge of yourself.
It may be about being your own best friend . . . about finding what is truly important to you. We don't have to follow others . . . yes, it is easier, but is it right for you? Is it what you want to do?
Life gives us opportunities . . . that don't seem like opportunities at all. We could lose a best friend or a significant love interest . . . and we can choose to be devastated, hurt, lost, bewildered . . . or stand up and say, "That was good for the moment and in this moment I will move on in my journey and find my true meaning of life and happiness."
Yes, it is a tall order, but it is important to allow doors to close and others to open. I'm not saying be reckless . . . I'm saying to take the time to explore your thoughts and feelings. Take a moment or two to reflect . . . to think . . . to observe . . . to discover what makes you happy.
Sitting out among the abundance of spring is like a rebirth . . . take advantage of spring . . . and watch yourself blossom and bloom.
Until next time,
Sharon