Some People Are So Clever!
Line a terra cotta pot with aluminium foil, put in some charcoal, light it and you have a mini campfire where you can roast marshmallows . . . or make some s'mores . . . or make a delicious sugar cone filled with fruit and chocolate and marshmallows . . . heat it on your mini campfire . . .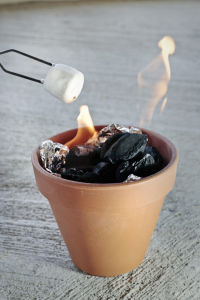 While you're enjoying your delicious treat, you can tell some wonderful ghost stories . . .
Plus you can surprise Dad with this for Father's Day!
And, once you do this . . . you've found the go-to-treat your family will ask for all summer long.
Be sure to be responsible with adult supervision. You don't want to have a huge fire, even if you use a larger terra cotta pot . . . you just need enough heat to melt the chocolate and the marshmallows.
Sugar Cone or Waffle Cone Delicious Summer Treat Recipe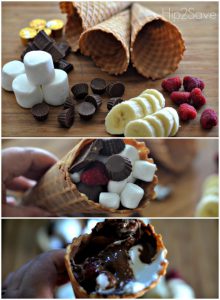 This will be easy for you to make and find all the ingredients . . . it's just stuff you love and would like to have all melted together into a cone.
You can make these on the grill after BBQ-ing, on a campfire and even in the oven . . . I kind of like that idea — a delicious treat that can be made throughout the year — just a thought.
It is quite clever to use a waffle cone in place of the graham crackers in the original s'mores tradition.
I wonder about adding some chopped nuts . . . or if this would be chewy enough with the cone . . . or adding some broken up pieces of graham cracker . . . or even cookie pieces . . .
These will definitely be easier to put together and have stay together from the first to last bite.
Here is a list of suggested ingredients — be sure to add some items of your own — and delete some as well:
marshmallows

Reese's peanut butter cups

chocolate bar pieces

Rolos

butterscotch chips

chocolate chips

banana slices

sliced raspberries 

sliced strawberries
Now:
Fill the cone with desired amounts of marshmallow and other ingredients.

Cover the cone with aluminium foil.

Place over the campfire for about 3-5 minutes or on a heated grill for 5-6 minutes or in the oven at 375° F for about 5=8 minutes. You want the toppings melted.

Enjoy the warm and gooey melted feast of chocolate. marshmallow and fruit pieces.
This is definitely a winner . . . something I can see offering throughout the summer . . . into the fall . . . and winter, too!
I hope you'll try these out and see how it works for you.
Until next time,
Sharon