It's Absolutely Delightful To Print Out This Easter Story Coloring Book
This is excellent for your family. It's also great for Sunday School Classes.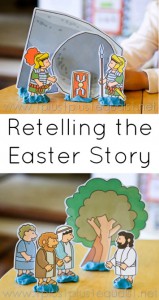 This comes from My Wonder Studio. This link has the pages colored and includes the story.
Click the image on the right and you'll be taken to the pages you can color along with your children or Sunday School class.
This is a fun project that can be set up as a diorama or play set where children can tell the story and act out the parts. It is excellent to tell the story of Easter . . . it's great to have Easter Egg Hunts and Easter Bunnies and Easter Baskets . . . but it is important to remember and teach the true meaning of Easter.
Too often we get away from the true meaning of holidays . . . they usually translate to getting a day off work or for children a day or week or two from school.
I'm not on a soap box . . . parents can teach their children what they want about holidays . . . if you're so inclined . . . this is an excellent resource for you to use.
This coloring book opens up a wonderful discussion you can have with your children. Children can make the characters and scenery stand up using clay or play-do . . . or you could add strips of paper to make them stand up.
I do hope you and your family enjoy these free printables and will use them during this Easter season.
Sharon