Thanksgiving will definitely be special with these Turkey Pillsbury Cinnamon Rolls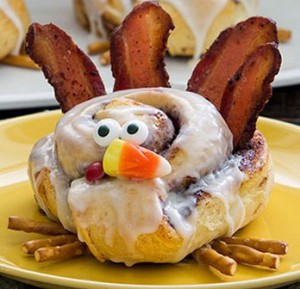 These Pillsbury Cinnamon Roll Turkeys will bring a smile to your breakfast table Thanksgiving morning.
Here's what you'll need to make 5 servings:
1 can Pillsbury Grands! Refrigerated Cinnamon Rolls with Icing

10 slices of bacon of your choice

5 candy corns for the beak

5 small red candies — red hots seem appropriate

10 candy eyes

15 mini pretzel sticks that you cut in half
Now it is all a matter of assembling them together after the cinnamon rolls have baked
Heat oven to 350° F.

Set the icing aside for now.

Divide the dough into 5 cinnamon rolls

Arrange your cinnamon rolls on a cookie sheet — spray with cooking spray or cover with parchment paper

Unroll each cinnamon roll about an inch to tuck in forming the neck. It's basically the folded up section where the candies will set to create the beak and waddle

Bake for 20 minutes or until golden brown

Remove from oven and let cool before removing them from the cookie sheet to a cooling rack

Cook the bacon until crisp, blot dry. Cut each piece in half and set up into the backend of the cinnamon roll to look like tail feathers

Drizzle the icing over the top of each cinnamon roll

Decorate with candy eyes, candy corn beak and red hot

The pretzel sticks will slide under each "turkey" to look like feet
This would be a nice brunch, too.
Happy Thanksgiving!