I love old stuff . . . and things that remind me of my childhood.
I remember my grandmother clipping recipes out of newspapers and magazines. She would sit at her kitchen table for hours organizing her recipes and writing them out on cards.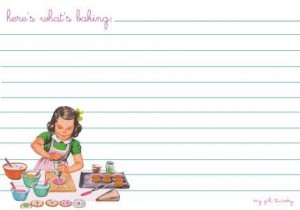 She could make a whole recipe book with the clippings she collected over the years. And all the cross outs she made to the recipes and notes she wrote in the margins. She knew what she liked and the amount of each ingredient that was necessary to make the perfect dish.
The more I think about it, the more I'm delighted I'm into crafting. I can make this mini album of Grandma's Recipes . . . if I only had it. Yes, this happens. Family members do have a tendency to "borrow" things and never returning them. I just hope that wherever it is, it has enriched the lives of those who have used those recipes . . . and it may be collecting dust somewhere . . . forgotten . . . or tossed out decades ago.
It doesn't really matter. We have access to millions of recipes on the internet and in cook books and in magazines and newspapers. These seem to circulate regularly . . . some "found" recipe tucked away for safe keeping has found its way to be shared.
Exactly like these vintage recipe cards. I like them because they remind me, it's never too early to learn how to cook and bake . . . and collect recipes. Just click the image to be taken to the page to print out this recipe card.
Have fun!
Sharon