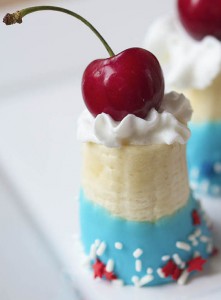 These mini banana split firecrackers will be a definite hit at your 4th of July BBQ.  You're going to need some cherries with the stems, bananas, blue chocolate melts, sprinkles and some whipped cream. Melt the blue chocolate melts in the microwave. Peel the banana and cut it into the size you like. Dip it in the chocolate melts, roll in the sprinkles, set it upright, add a spritz of whipped cream and a washed cherry and you're ready to do another. Serve immediately so your whipped cream doesn't melt. 
You may want to do the bananas and dip them in chocolate and the sprinkles, then when you're ready to serve them put on the whipped cream and the cherry. 
Once your guests see these, they won't last long!!