Yes, I Talking About TwoCansOnAString.com
First, I didn't think I had a niche for this website. I refer to it as "my fun website" or my "kitchen junk drawer." And I do mean the last one quite favorably, because where would we be without a junk drawer for all those odds and ends we don't know where to put otherwise.
I was writing a post today on one of my niche websites and it dawned on me that I do have a niche, of sorts. I share a lot of recipes and I do get into the holidays and share whatever is of interest to me. I love the free paper craft printables I share regularly. I've pretty much created a niche for myself. Just as others have done with their websites.
You see, we don't fit neatly in a box and our websites are a reflection of that.
Second, I have many interests which are directed by what's going on around me.  Yes, I have broken my original TwoCansOnAString.com website into 4 niche markets, but this website is still eclectic. It's kind of like Grandma's attic. You never know what you'll find.
I'm not sure what was so fascinating about Grandma's attic. I loved climbing the stairs as a child. I also liked the opportunity of being invited into an area of the house where I wasn't permitted to explore on my own. It may have been the stories. Everything seemed to have a story. It was best when my grandmother and her sister forgot I was there and they'd reminisce about their childhood and the funny antics of their brothers and even those of my father and uncle when they were growing up.
That's what I want to bring to TwoCansOnAString.com, that sense of family and remembering all those precious moments of long ago and bring them forward to enjoy once again.
We do have our own stories that are unique to us, but there is that overlap where we do have memories in common centered around cooking, a holiday, a sound, a fragrance or special or not so special event. It's that human connection that makes this website fun and special for me.
Third is the building of relationships. We haven't met formally in person, but we do know one another by the time you've spent here. I'd know you a lot better if you'd leave me a comment, but I can still relate to you. We have made a bond of sorts.
You come here to see what's new — what I have to share with you.
It may be something you like or it may be something that doesn't interest you at all. But, it is nevertheless a place where you come to visit for awhile. Where I share the weather, my precious Diva, random thoughts and things I found interesting.
I do like sharing recipes. Most of life is centered around food. What's fun for me is making the recipes unique. Not just for me to share, but to imagine what ingredients you'd add or substitute. Or what pops into my mind . . . or yours for that matter that would make the recipe unique for you to share with your family.
I sometimes think about a can of something I bought and don't know where to use it . . . then a recipe comes along that will work out nicely with that ingredient. This may not be the best way of selecting recipes, but it's a good way to use what's in your pantry or refrigerator.
Fourth, there's the anticipation of holidays or the change of season and what can be learned from that. Just the other day I learned I've been using the term Indian Summer wrong.
It doesn't bother me to be wrong. It's an opportunity for me to learn something new and share it with you. Quite honestly, why are we online? Isn't it to learn something new that we can then share with friends and family? That's true for me and also for me to put here and on my other websites. I'm always wanting to add something new to my websites.
Today, I learned we may get some rain. I was a bit surprised when I went outside and saw that it was overcast and not as hot as was predicted a few days ago. I guess it is true, the best way to predict the weather is to go outside. Well, I'll believe it's raining when I experience it.
My websites are actually no different from the department or grocery stores that anticipate season change and upcoming holidays. Well, I don't have inventory to put on the shelves and I didn't have to place orders in advance, but I have been saving some posts to publish closer to the season.
This may surprise you, if you've been following this blog regularly. I've touched on Halloween and Christmas. Yes, it may be my excuse of giving you time to prepare, but you've probably guessed that it's because I'm just like a kid — I can't wait.
Fifth, I love paper crafts. I love printing them out, cutting them out, folding and gluing pieces in place. It amazes me how it does come together nicely. It's also a good project to do with the kids. They'll learn how to follow directions and in the end have something to show for their efforts.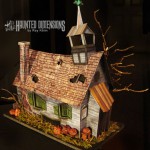 Since we're into Back-to-School mode, I wanted to add this great Skoolhouse from Ray Keim's Haunted Dimensions. He also has some other great houses on his website you may enjoy printing out and making for a special Halloween display.
As I remember he has a lot of Disneyland/DisneyWorld buildings along with The Bates House from the old Alfred Hitchcock movie Psycho. There's Amityville, too. And he has a new one of The Colonial Theater where the classic movie The Blog took place. These are all excellent, but I'm excited about the old Skoolhouse — although mine didn't look like this, I can relate as you and your children can. School was a huge part of our lives and will be part of your children's lives for quite a few years.
I was going to add a few more, but sometimes it's best to stop before I go overboard.
Thanks you for stopping by and reading this post. Please leave me a comment.
Sharon