I Love These Rubber Stamps!!
These ladies know how to have fun . . . and fun they do have throughout the pages in my mini-albums and on various greeting cards I  make for family and friends.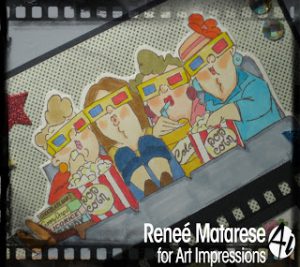 These stamps for me have become a "family" . . . they are very much part of my everyday life . . . And the thing is, I can't buy just one set of these stamps . . . One leads to another . . . and another . . .
I don't fancy myself as a "stamper", but when it comes to these ladies . . . I am so hooked . . .
They are excellent to create adventures for them to share with you through the pages of your journals . . . scrapbooks . . . mini-albums . . . greeting cards . . .
As I said earlier, they have become "family" for me.
These are Art Impressions Girlfriends Cling Rubber Stamps. They are individually trimmed and mounted on repositional cling cushion. The detailed image gives a great stamping experience because of the high grade gray rubber used. These stamp sets are easy to store and are used with acrylic blocks that are sold separately and can be used for other stamp sets as well. These are individually packaged and include black and white as well as colored "actual size" image samples.
I absolutely love them!! They remind me of ladies I know . . . who have never really grown up . . . and have the time of their life each and every day!! Yes, life is a celebration for them!
I could go on and on with more and more links for you. I know you will be able to explore on your own once you click one of the links above to get just the right stamps that fit in with your crafting style.
There are the ladies at the movies, at the pool, celebrating a birthday . . . there they are at the beauty shop . . . and having some fun at a party. I do hope you love them as much as I do . . . they truly make me laugh!
These girlfriends are going to accompany me on many great adventures . . . Maybe they'll feel right at home with you and your family, too.
Have fun!
Sharon