Life is truly precious. And beautiful days are days to celebrate.
I love being outdoors with my precious Yorkshire Terrier Diva. There is something about being outside, enjoying the flowers, blossoming trees and my vegetable garden.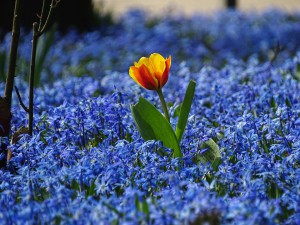 It is important to dig in the dirt from time to time and to thoroughly enjoy the abundance nature has to offer. Diva enjoys being out in the sunshine and sniffing around. Also sitting with me on the patio.
I like to work on craft projects. Gluing paper together to make 3-D houses or pop-up pages for mini albums. I never outgrew that need to make stuff. Or the fascination of opening up a page that pops up.
I wonder if this comes from wanting things to be life-like. I find when looking at pictures, i want to go beyond the flat surface and make it third dimensional so I can actually see around it. I know many people put those dimensional dots on cutouts to make them stand out . . . and doors and windows are able to be opened . . . and there may be a scene behind it . . .
Spring is a wonderful time of year . . . it's not too cold and it's not too hot . . .
After Easter, we'll be celebrating Mother's Day and Father's Day . . . then we get into summer . . . and the Fourth of July . . . then we anticipate fall . . . and all the fun that season brings . . .
As many of you know, fall is my favorite time of year. I feel it is a new beginning, but it truth spring is that new beginning with the budding of fruits and vegetables that we'll be enjoying through the summer and into the fall.
I guess we're all geared a bit differently . . . . having a preference for different seasons and holidays. I do know many people who love Halloween and come alive with their creative genius in making mini albums and related craft projects. Some go with the spooky while others go with the sweetness of youth and the wonder of it all . . . and others do a bit of both . . .
And those who adore Christmas . . . that magical time of year . . . with the carols and the anticipation . . .
But, spring, I'm now beginning to appreciate more . . . the beauty of all the flowing trees and plants . . . the abundance of color springing forth . . . mild temperatures . . .
Then come the vacations of summer . . . 
And that anticipation of fall . . . Sorry . . . that's where the seasons seem to take me. I do enjoy the moments of each season . . . but my true love is fall and winter . . . those two popular holidays of Halloween and Christmas . . . and I do love Thanksgiving that it squeezed between . . . and I'm very fond of Easter, too.
Those "lazy, hazy, crazy days of summer" with beach outings . . . picnics . . . camping . . . being carefree and fancy free . . .
Yes, each season has its advantages and its special moments . . . which you'll notice centers around family . . . and friends.
Spring and summer seem to be the seasons of S'mores . . . but I make them the treat of all seasons . . . but there is something special about making them over an open fire . . . things "cooked" in nature seem to taste so very much better.
Whatever season is your favorite and however you celebrate traditional holidays and seasons, I would like to leave you with some links of jigsaw puzzles you and your family may enjoy:
Yes, I do go for the nostalgic . . . there are jigsaw puzzles available for all seasons and all things that are meaningful to you and your family. I find having a puzzle out, brings people together. It is a relaxing activity where you can visit, have a conversation and find pieces that will fit in completing the puzzle.
I do find them relaxing throughout the year.
Have a fun!
Sharon