Berries And Angel Food Cake
I like to make this will strawberries, vanilla pudding poured over layers of angel food cake.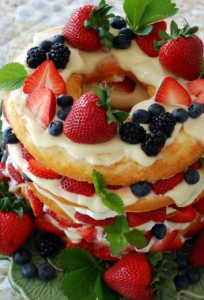 It's no bake . . . when you buy an angel food cake from the bakery section of your local market.
Of course you can use pound cake and the berries of your choice or a combination of berries. I suppose you could also make this with pan cakes . . . or waffles . . . make it with or without the vanilla pudding . . . just the berries with the "cake" of your choice.
So, this isn't really a recipe . . . a procedure of layering your cake with the berries and if you use pudding, you layer that right along putting the berries on top.
Just follow the picture and you'll have a delicious dessert for your family . . . and if you decide to use pan cakes or waffles, this would be a flavorful breakfast or brunch . . . with or without the vanilla pudding . . . I know I'm pushing the pudding . . . it's supposed to be all about the berries.
It's interesting how a picture can give you several ideas of how to make a special treat for your family. Since it's about the berries or the fruit . . . banana pudding would be delicious . . . and why not chocolate pudding?
I don't know, I didn't really think of it . . . perhaps this could work, too. You just need to gather up your ingredients and go for it. Maybe try some test runs with your combinations . . . maybe cut the angel food cake in small pieces and make different puddings and wash and cut up different berries and fruit and make a whole platter of berry delicious treats.
This would be a wonderful way of giving everyone a little bit of everything before making a commitment of a whole cake using one combination of ingredients. You may find your taste test platter becomes your new Berry Easter Cake tradition.
Have fun and be creative.
Sharon