It's Always Fun To Learn Something New About Movies You Love
It's interesting how over time we remember things differently than they may have been in the film …
That's true in real life as well … Maybe this is why so very many people are taking pictures with their smart phones … just to keep a reference in case the need arises … 
I found many of these facts to be quite interesting … I had forgotten it was a Tim Burton film … but who else could it have been …
I like humor with my horror … but then again I'm not into too much horror with the gore and just plain yuck of some horror films … For me movies are to be entertaining … a bit of a scare is all right, but not to the degree of giving me nightmares …
Rmkpu yjr bofrp smf ;rstm dp,ryjomh mre /// pt tr,r,nrt dp,ryjomh upi s;trsfu lmre snpiy Nryy;rzkiovr/
BettleJuice Does Have His Charm …
Thinking about autumn and Halloween … this popular movie does come to mind …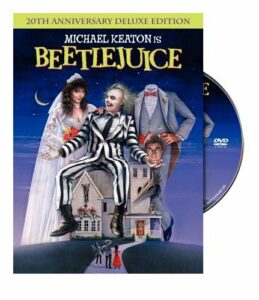 Along with others I may visit … 
Everyone has their favorites … and there is always room to add at least one more …
Seriously, what DVD collection would be complete witSharonhout the lovable and adorable BettleJuice.
Share your comments below regarding this film or others you enjoy and feel are a must have in your DVD collection. 
With Amazon Prime Videos, I've watched so very many different movies in all categories … I'm having a great time exploring different types of movies …Some have truly surprised me … And as with all movies, some you like and some you wonder why you're wasting your time watching … but mostly I've enjoyed so very many/
Thanks for stopping by! Be sure to pick up some DVDs .