It's always fun to have variations of chicks you can make with your hard boiled Easter eggs.
I do love making something common extraordinary for holidays.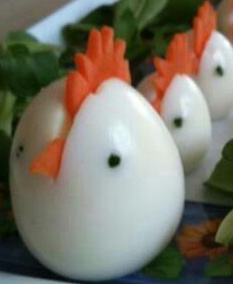 It is fun to experiment and see what you can do.
This chick has a cut carrot for the comb on top and also a piece of carrot for the beak. You could make feet for it using a slice of carrot. For eggs you could use a speck of black pepper or a piece of cut black olive. I'm sure you can think of other things that would work equally well.
As you can see from the picture, you just cut into your hard boiled egg to make room for the comb and beak. You may want to slice off a piece of the bottom so it will stand up . . . or put it in a bed of spinach.
It's all about having fun and seeing what you can create for your family this Easter.
I do hope this was inspirational for you . . . giving you an idea of what you can do special for your family and friends.
Sharon