I love paper crafts . . . especially boxes I can fill with interesting things.
This closure box seems suitable for many different occasions and different age groups.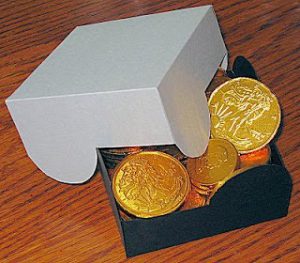 You can decorate them however you like . . . using the designer paper of your choice . . . and, of course, filling them with whatever seems appropriate.
These coins remind me of Pirate Treasure . . .
This box can be used for anything . . . even a gift card . . . or an invitation to a family movie night . . . or a family board and card game night . . . or . . . making s'mores over a backyard fire pit and tell ghost stories . . .
These summer nights are always good to spend with family . . . You can also do some star gazing.
Click the picture on the right and you'll be taken to a PDF template that you can download and then print out.
This is one of those boxes you can decorate for different holidays and special events throughout the year. They are easy to assemble.
Thanks for stopping by!
Sharon