Clue and Harry Potter, what could be better!!
A "must have" for Harry Potter fans!!!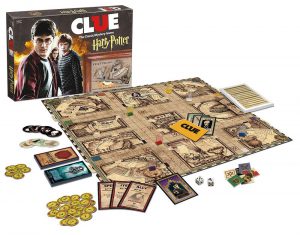 Recommended ages are 9 years and up. This is an excellent family game!!
Some say it is better than the original Clue game.
The object of the game is to solve the mystery of the disappearance of Hogwarts students.
The game board features wheels which move the rooms and reveal secret passages!! That's truly exciting!!
This is excellent for Harry Potter Fans . . . and as a family game!!
You may want to read the books or watch the videos . . . just to get into the mood of this game and about Hogwarts and the characters:
I found the book collection, a collectable quidditch set, a Harry Potter Collection Kindle Edition and the 8 DVDs.
Let's see about some other games:
I do thank you for stopping by and shopping with me!!
Sharon