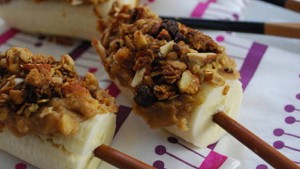 Rachael Ray comes through with this great snack that makes a wonderful breakfast, too.
It serves four and has great ingredients:
1/2 cup of chunky style peanut butter
2 tablespoons of honey
1 cup granola with nuts and raisins — I suppose you could substitute trail mix
2 large bananas
you'll also need sticks which could be popsicle sticks or lollipop sticks or wooden skewers or even chop sticks
They're quick and easy to make:
Heat the peanut butter in the microwave on high for about 20 seconds to loosen it
Stir in the honey
The granola is lightly crushed up in a food processor to get it all blended together — you may be able to use a blender
Peel and cut each banana in half. Insert the stick into the cut end of each banana half'
Since you have four banana halves, spread one side of each banana on a stick with 1/4 of the peanut butter and honey mixture. Coat with the granola, gently pressing it into the peanut butter
Although you'll be eating this treat on a stick, serve it on a plate to collect the crumbs
If you're serving it for breakfast, you may want to add a hard boiled egg to the plate or make an omelette or one of those breakfast sammies in an English Muffin. They're fine alone, too.
It's nice to have healthy snacks the whole family will enjoy.