This Delicious Taco Casserole is a real crowd pleaser.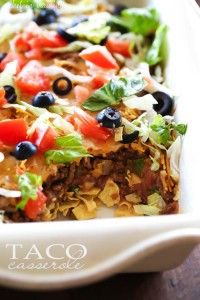 These hectic days of summer need to give the chef in your household a break every once in a while. This Taco Casserole is the ticket. It is not only delicious, but also quick and easy to prepare.
Delicious Taco Casserole
Ingredients:
1 pound of ground beef
1/4 cup of chopped onion
1/4 cup of chopped bell pepper
1/3 cup of taco seasoning
1/2 cup of water
2 cups of crushed tortilla chips
1 – 16 ounce can of refried beans
1-1/2 cup of shredded Mexican cheese blend or a jalapeno cheese or any cheese of your choice
Top with shredded lettuce, tomatoes, sliced olives, sour cream, avocados and salsa
Directions:
In a large skillet cook the ground beef, onion and green peppers until the meat is done.
Drain the grease.
Add the taco seasoning and water.
Cook for about 3 minutes until it thickens.
Remove from heat.
Preheat the oven to 375°F.
Place chips in the bottom of a 9 x 13 inch baking dish.
Evenly drop spoonfuls of beans over the chips and carefully spread the beans over the chips.
Spoon the ground beef mixture over the beans and top with cheese.
Bake at 375°F for 15 minutes or until the cheese has melted.
Top with lettuce, tomatoes, olives, sour cream, avocado and salsa.
If you don't have avocado, you can skip it. Or any of the ingredients you don't want in or on your casserole. Make this recipe appeal to the ones who are going to be eating it.
Thanks for stopping by!