I fell in love with Thumper when I first saw him in Bambi.
So every spring and Easter, I get thinking about him.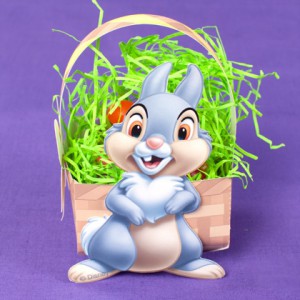 Initially, I was thinking of just printing out Thumper and forgetting about the basket. I would love to make other crafts using his image throughout the year. Wouldn't he look great wrapped up in Christmas lights?
If you do want to print out and make the Easter Basket, just click the image and you'll be taken to the download and print page.
You can definitely have some great fun filling these Easter baskets with goodies for your family, friends and neighbors.
I would print these out on cardstock and maybe reinforce the pieces by gluing them on chip board or old cereal boxes or soda can boxes or any cardboard you have around. If you plan on putting Easter eggs in them, the baskets may not be sturdy enough to hold them. Or put a note on them to pick up and support the bottom of the basket.
There's also the Thumper 3-D Easter Card you may want to make.
Spring seems to be in the air . . . no better time than to get thinking about Easter. It will be here sooner than you think.
Enjoy!
Sharon