There Are A Lot Of Holiday Snacks Using Popcorn
If you don't have a popcorn popping machine, don't you think it's about time you got one?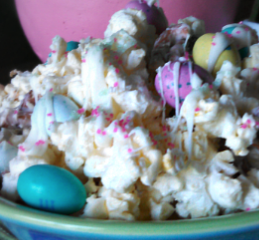 I don't want to be pushy, but the microwave popcorn bags ones don't work as well with this recipe. You can always pop corn kernels on the stove, but a popcorn machine is so much easier.
As quickly as your family and friends will eat this up, you'll want to make it as healthy as possible knowing exactly what ingredients you're putting into this fun and delicious snack.
So, let's get you set up with the ingredients and the popcorn machine and we'll move ahead with the recipe.
Take a look at this Presto 04820 PopLite Hot Air Popper.
Pops faster than a microwave. Do you believe it? It pops up to 18 cups of gourmet corn in less than 2 and a half minutes.
You save 70% by using regular or gourmet popcorn instead of microwave bag popcorn.
You'll be saving 42% of the calories by popping without oil.
There are no artificial flavors, saturated fats, preservatives or added salt when you pop your own popcorn instead of buying the microwave bags.
I don't know about you, but I like to know what I'm eating. I gave up the microwave popcorn several years ago and bought one of these. It's going strong!
You're also going to need popcorn kernels. Here are a couple of links that will get you started. And while I'm looking around, I'll give you a selection of candies you can add to your homemade chemical free popcorn snack.
  I did get a bit carried away. You have your popcorn, candy melts, square pretzels, chocolates and I thought I'd throw in the jelly beans . . . can Easter be Easter without jelly beans!!!
All right, enough fooling around. Let's get this recipe going. You may have already figured it out from the picture and have already made your first batch of it.
Easter Snack Recipe
Ingredients:
1/2 a cup of popcorn kernels
12 ounces of plain vanilla candy melts
1 and 1/3 cups of pretzel squares you'll want to break into pieces
12 ounces of M & M chocolate pastel candies of your choice
Multi-colored sprinkles, about 2 ounces
You can add your own ingredients. You can have mini marshmallows, jelly beans, even a candy of your choice . . . it's your Easter snack!
How about melted marshmallows instead of the candy melts? Just an idea you may want to consider.
Let's put this together:
Pop popcorn in a popcorn popper and put in a large bowl.
Get rid of any of the unpopped popcorn kernels.
Add the broken pretzel pieces and the candy. Don't add the Sprinkles yet.
Melt the candy melts in the microwave on high for about 30 seconds. Stir and put in the microwave for another 30 seconds, stir until the candy melts have melted and is smooth.
Drizzle about half of the melted candy melts over the popcorn mixture.
Toss gently with a rubber spatula.
Then drizzle the remaining half of the melted candy melts over the popcorn. Toss again for even distribution.
If you're using sprinkles — Empty your bowl into a single layer onto wax paper. Sprinkle the mixture evenly with sprinkles before the candy melts set.
Let it cool and harden before breaking it into pieces and serve or store in an airtight container.
There you have it. A fun Easter snack with variations to make it your own.
Have fun and enjoy!
Sharon