A hearty breakfast is a "must have" on Thanksgiving Day or Christmas Day. Those days when you'll be waiting for dinner .  .  . maybe Easter Day, too. I'm not picky — this is a great breakfast casserole you can make any time.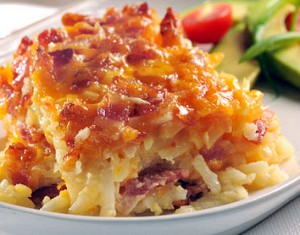 This casserole serves 6
Ingredients:
4 cups frozen shredded hash brown potatoes

1/2 cup finely chopped onion

8 ounces cooked and crumbled bacon

1 cup shredded cheddar cheese

1 can evaporated milk

1 large egg — beaten
Directions:
Preheat oven to 350 degrees F.

Grease an 8 ounce square baking dish.

Layer 1/2 of the potatoes, 1/2 the chopped onion, 1/2 the crumbled bacon and 1/2 the cheese.

Repeat for the remaining potatoes, onion, bacon and cheese.

Combine the egg and milk in a small bowl.

Pour evenly over potatoes, etc. in the baking dish.

Cover.

Bake in the oven for 55 to 60 minutes.

Uncover. Bake for an additional 5 to 10 minutes.

Wait 10 to 15 minutes before serving.
This simple recipe is a real hit with family and friends. Give it a try. Add other ingredients or substitute ingredients. This would work well with left over turkey, ham or whatever left-overs you may have.