Just when you got used to Amazon's Echo, they improved it!
That's true!!
Now there is Echo Show — that's right — you can now see the weather report, the breaking news, a message from friends and family and so much more than I can tell you about.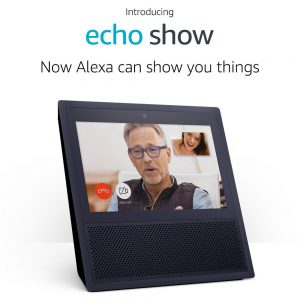 Echo Show has 8 microphones and beam-forming technology so it can hear you across the room while music or the tv is playing. It still uses the Alexa App, but it can do so much more.
Click the image to the right to learn about it for yourself and imagine how awesome this would be.
Buy 2 and save!!!
I highly recommend this Echo Show — they would make excellent Christmas gifts!!!
Get the latest technology and introduce it to your family and friends. It will make it so much easier and much more fun to keep in touch.
Thanks for stopping by!
Sharon