Ray O'Bannon has been busy at RavensBlight creating new papercraft toys for his visitors.
One caught my eye . . . an eye catcher . . . Which is actually catching an eye on a strong . . . A fun hand-eye-coordination thing you may enjoy making for your family . . .
Click the image on the right to be taken to the PDF to print out. Click Here for the assembly instructions.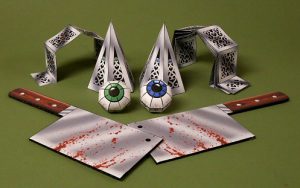 I do like the eye and may use it in other projects . . .  Be sure to check out Ray's other toys . . . He has a fun golf game that may get you right into the Halloween spirit . . .
To me it seems more like a variation to croquet, but Ray can name his game whatever he prefers. There are so great eyes again . . . Can you imagine terrifying your friends and family by bringing out this Cleaver Golf game?
These may be a great hit at your Halloween party. I think I may make up a bunch of those eyes and put them in a big bowl . . . I wonder about a friendly game of pool . . . or perhaps put little treats inside . . . A little jingle bell may be a nice touch . . . For the eye-catcher, too.
I believe Ray O'Bannon is a clever artist . . . His games and images go to the mysteries of the paranormal . . . His does give a colorful history of how this golf game was created . . . yet it does play a bit more like croquet with the hoops . . . and the cleavers . . . but I'm not going to argue with the creator of this game, I just delighted he has these free to print out and make.
Although I may be feeling a bit creeped out at the moment, I do hope these Ray O'Bannon games will find a place in your home in which to play . . . I did want to give you something fun to have for the official opening of this fall season.
Thanks for stopping by!
Sharon