Family.Disney.com has the absolute best FREE Templates you can print out for Thanksgiving.
I don't believe Thanksgiving would be complete without having some hostess gifts for your young guests. It gives me a warm feeling inside that I've given something special to prolong the celebration just a bit longer.
These candy box Mickey and Mini Pilgrims are absolutely perfect. You make them by printing them out on card stock, cut them out and assemble them. Then you fill them with something yummy or special trinkets. It's that special touch, only you can add that makes these Mickey and Mini Candy Boxes so special.
Without further chatter, here are the pictures and the links: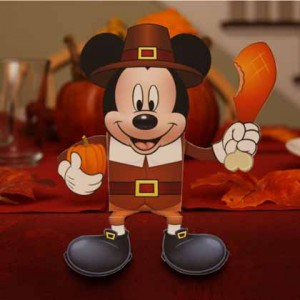 Now isn't he a handsome fellow with his Pilgrim hat, a pumpkin and his own turkey drumstick!
Click Here for the Free Template
I haven't forgotten Mini! She does look lovely as a Pilgrim with her special bonnet, apron and a beautiful big smile.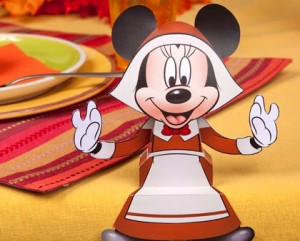 Click Here for Pilgrim Mini Mouse
This handsome couple will definitely brighten up your Thanksgiving decor. I always like to add a bonus or two in my posts to give you something else you can use by printing out on card stock, cutting out and assembling.
Chip and Dale are fun little characters to make this special Kids' Table sign enjoyable.
You're going to need a wooden dowel and a flower arrangement or a pumpkin to secure the dowel into.
Mickey Mouse Happy Thanksgiving Napkin Rings
You can print these out on either plain printer paper or card stock. They tie the Disney theme together at the adult and kids' tables.
I have one more surprise free template for you.
Thanks for stopping by and have a Happy Thanksgiving!