Bodum 1928-16US4 Chambord French Press Coffee Maker
I remember seeing a French Press Coffee Maker in Packed To The Rafters. I kept thinking how cool that was . . . Plus I was wondering how it worked with the plunger and all . . . And the clean up — In the series I don't recall seeing them clean the French Press — they just made the coffee . . . However, I do like the idea I don't need coffee filters. Clear coffee cups are attractive. This may be a welcome change from coffee mugs.
How to Brew French Press Coffee the Bodum Way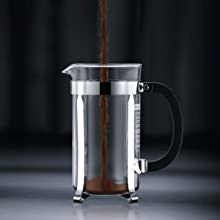 French Press – Step 1:
For each 8-ounces of coffee, you want to brew; put 2 rounded tablespoons or 2 Bodum scoops of coarse-ground coffee into the carafe.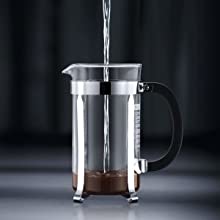 French Press – Step 2:
After the water has boiled; wait for 10-15 seconds before pouring into the carafe. Leave a minimum of 1 inch of space at the top. Stir with a plastic or wood spoon.
French Press – Step 3:
Place the plunger unit on top of the pot. Turn lid to close off the pour spout opening. Do not press down. Let the coffee brew for 4 minutes.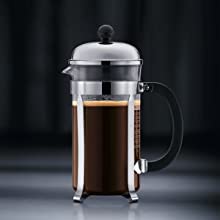 French Press – Step 4:
After the 4-minute brew has completed, gently press down the plunger and you are now ready to enjoy a delicious cup of French Press coffee.
Although I've given you detailed brewing instructions above, I believe seeing a video is a better way of thoroughly understanding the French Press Coffee making/brewing process.
This Seems Like Getting Back To Basics
I remember when I was a kid, my uncle was telling my parents about French Press Coffee. He even gave them a demonstration with this new coffee maker that you didn't plug in . . . That was amazing. My parents loved their morning coffee and with the great build-up from my uncle, they were eager to try it. Well . . . I suppose I should stop my story right there, but what would be the fun of that — Once my uncle left, the French Press Coffee Maker was set in the cupboard and they brought out their tried and true electric coffee percolator.
What Do You Think About French Pressed Coffee?
I'm intrigued. I like the idea of grinding my own coffee beans. I don't mind heating up the water to pour in the carafe. Waiting 4 minutes is no big deal. I don't mind scooping out the bulk of the grounds. I suppose it all comes down to taste. That's what coffee is all about. 
I'm also wondering how hands-on I want to be in this process. With my old Mr. Coffee I just go into auto mode, turn it on, walk away and when I return my coffee is done. It's all a matter of changing my morning routine . . . I suppose I could make this work. I'm much more impressed by this process than the way I've been making coffee . . . I think I'd like to give it a try. I love the look of it. 
You decide what's best for you. Thanks for stopping by!
Sharon