A 16-Ounce Cauldron-Shaped Soup Mug!
Made to look just like a cauldron from a potions class at Hogwarts! This enchanting cauldron measures approximately 4 1/4 inches tall x 4 1/2 inches in diameter, providing the perfect vessel for your magical concoctions. Complete with a spoon and lid, you can keep your potions warm and properly mixed to achieve the desired results. Crafted for convenience, this cauldron is dishwasher- and microwave-safe, ensuring easy cleaning and heating. Embrace your inner wizard and bring the world of Harry Potter to life with this officially licensed cauldron.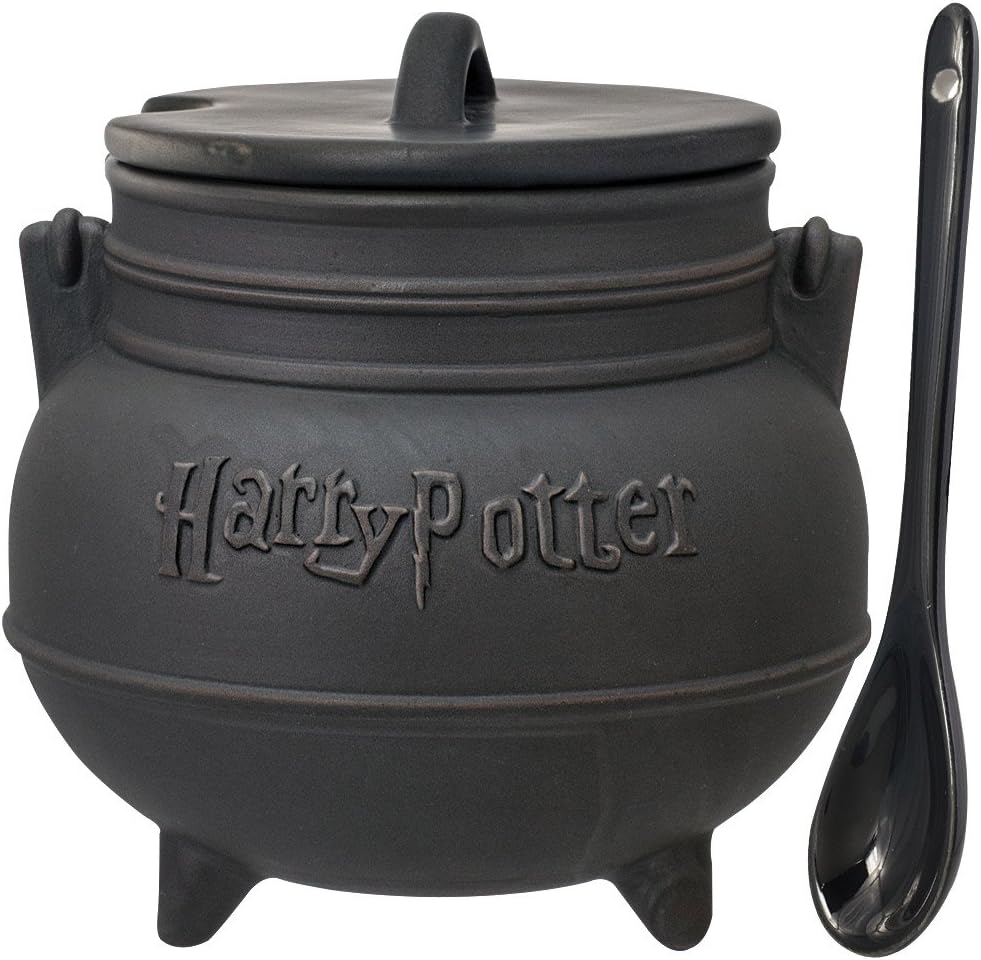 Behold the versatile Harry Potter Cauldron! While advertised as a soup mug, this magical cauldron can be so much more. Imagine savoring your morning hot cereal, or enjoying a refreshing bowl of cold cereal – it truly is a bowl for goodness sake! But why stop there? This cauldron is your ticket to endless possibilities. Whether it's soups, stews, pasta dishes, or even a delicious dessert, this cauldron is ready to transform your culinary adventures. Embrace the magic and make every meal enchanting with the Harry Potter Cauldron.
Are you ready to experience the magic of Harry Potter right at your dinner table? Indulge in the enchantment of our Harry Potter Cauldron Soup Mug and Spoon, where one is simply not enough. Imagine the joy of having four, or perhaps even six cauldrons adorning your feast-filled table. But why stop there? With eight cauldrons, the ambiance would be truly ideal, creating a whimsical and festive atmosphere. Set the stage for an unforgettable dining experience with our Harry Potter Cauldron set at every place. Let the magic unfold and elevate your meals to extraordinary heights.
What Are You Waiting For? Click One Of The Cauldrons To Order One Or More For You And Your Family!
Ordering Is Safe, Private, And Secure!
These enchanting cauldrons are a must-have for all Harry Potter fans and anyone looking to add a touch of witchy/wizardly charm to their lives. With the perfect season for Halloween approaching, these cauldrons are the ideal addition to your decor. But why limit the magic to just one time of the year? Embrace the whimsical allure of these cauldrons and let them bring a touch of enchantment to your space throughout the year. Let your imagination soar and create a spellbinding ambiance like no other.
These enchanting cauldrons have sparked joy in hearts across the globe. I know for a fact that these magical vessels have found their way to the mystical land of Alaska, captivating even the most adventurous souls. Prepare to be astounded as you uncover the secrets they hold within. Unleash your inner sorcerer, and let these cauldrons weave their spell of wonder and delight. Discover a world where the ordinary becomes extraordinary, where imagination dances with reality. Join us on this extraordinary journey and unlock the true magic that lies within. We welcome you to a realm of infinite possibilities.
Thanks for stopping by!
Sharon