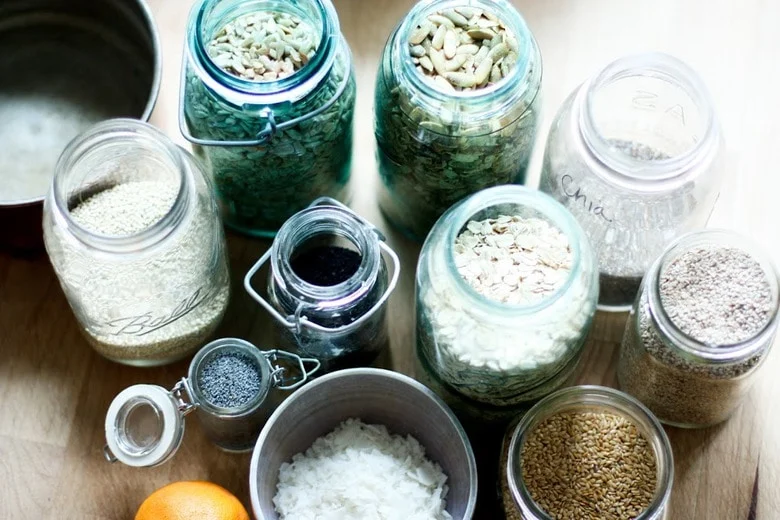 I Love Granola With Those Yummy Clusters
You choose all the delicious ingredients. I'll make some suggestions and you decide what is best for you and your family. I hope you love the idea that this granola is naturally sweetened with maple syrup, but feel free to use a flavoring of your choice. This is a quick and easy recipe that takes about 10 minutes of preparation before you pop it in the oven.
Ingredients:
2 cups Organic Rolled  Oats

1 1/2/ cups Raw Nuts (almond, cashew, pecan, pistachio, hazelnut, macadamia)

1 cup Seeds of your choice You may also want to add 1/4 to 1/2 cup of additional seeds of your choice (pumpkin seeds, sunflower seeds, chia seeds, sesame seeds, poppy seeds, flax seeds)

Optional: 1 cup coconut flakes and 1 cup dried fruit (cranberry, pear, apricot, pineapple, cherry, apple, raisin)

1/3 cup Maple Syrup

1/3 cup Coconut Oil or Olive Oil

1 teaspoon Vanilla

1/2 teaspoon Salt 

1/2 teaspoon cinnamon

1/2 teaspoon cardamon or nutmeg

1 tablespoon orange zest (optional)
Let's Make Granola:
Mix the dry ingredients together in a bowl.

Pour in the wet ingredients and stir to combine.

Spread out on a parchment-lined sheet pan or two.

Bake 20 to 25 minutes at 325 F, stirring halfway through, patting down and rotating the pan. (This patting down process with a spatula halfway through baking allows those wonderful clusters to form.)

Let cool before storing.

Store in an airtight container or jar. It will last up to 6 weeks.
How Are You Planning On Serving Your Granola?
You may enjoy your granola with fresh berries and yogurt.
Perhaps pour almond milk over the top.
Eat it like trailmix or a snack.
Get creative and have fun!!
Thanks for stopping by!
Sharon