Unusual Boxes Are Especially Great When You Can Make Them Yourself.
These work for all occasions . . . and it works well for you to keep some hidden treasures of your own safe.
I do love the design of this box and the ability to set it among other books for safe keeping. It's also great to decorate for holidays and fill with goodies for family and friends.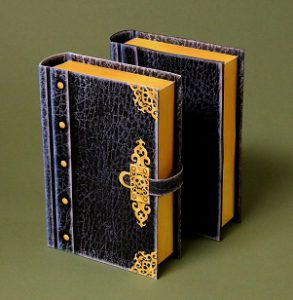 No matter the design you choose and how you decide to use them, this free printable from Ray O'Bannon of Ravens Blight will be something you'll enjoy for years to come.
Click the image at the right for the Gold Filigree Book Safe PDF. Or, if you prefer the Plain Black Book Safe. Oh, and you'll need the Assembly Instructions.
I truly love Ray O'Bannon's paper crafts. He does go for the dark side which is great for Halloween and making a Spell Book or to keep your lotions and potions. Or you can surprise everyone and do something completely unexpected . . .
It could be a good place to keep those secret family recipes . . . or other things of value. I think this may work quite nicely to give holiday goodies . . . I know one neighbor that may freak out when she sees it on her door step. But once she gets a good look at it and sees what's inside . . . Well . . . maybe not . . .
Some people you just can't please . . . and some just don't have a sense of adventure . . .
I believe you can have a lot of fun with this Book Safe. You can decorate it however you wish for whatever occasion you choose. You could tuck some interesting goodies in the box — jewelry, pictures, special candies . . . gift cards . . . money . . . tickets to a play or concert . . . Maybe even a special card or small book . . .
Be sure to click the image and the links above and make a few of these for your own amusement and enjoyment.
Sharon