With warmer weather, hot chocolate may not be on your agenda right now . . . 
But . . . a cool spring or summer night . . .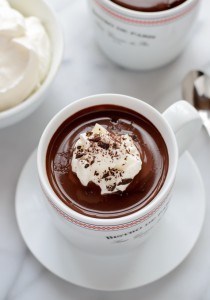 Or having friends over . . . this may just hit the spot!
French Hot Chocolate Recipe
Ingredients:
1 1/2 cups whole milk
1/2 cup heavy cream
2 teaspoons powdered sugar
1/2 teaspoon espresso powder
8 ounces bittersweet chocolate, chopped — get the best quality Guittard, Ghirardelli, Godiva — Don't use chocolate chips, they won't melt as well.
plenty of whipped cream for a generous serving on top
Directions:
In a medium sauce pan, whisk together the whole milk, heavy cream, powdered sugar and espresso powder over medium heat.
Heat until small bubbles appear around the edges. Don't allow to boil.
Remove the saucepan from the stove and stir in the chocolate you chopped up earlier, until melted. You may need to return the sauce pan to a low heat setting on your stove.
You're going to want to serve this warm, topped with a generous amount of whipped cream.
This is definitely a rich intense hot chocolate you'd find in a fine French establishment.
You may find your family enjoys it so much, you'll be making this throughout the year.
Have fun!
Sharon