And These Coffin Treat Boxes Are Great For Your Ghost Hunting Friends.
They're not just for Halloween … but if that is your plan, it is best to begin early — you'll need to make dozens and dozens of these.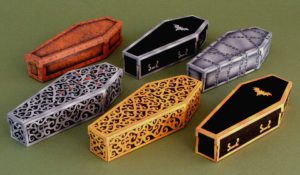 I received a comment from a Grandmother who said her granddaughter would love these!! I agree!! She will probably want her grandmother to make up a lot of them so she can fill them with sweet treats and hand out to her friends … or depending upon her age, she and her friends can make their own …
My friend Ray O'Bannon over at Ravensblight has a whole selection of coffins from which to choose to make any spooky celebration special.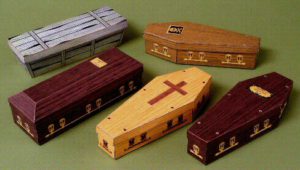 You may find some other items of interest you'd like to make from his Toy Shop — they're all Haunted Paper Toys you can make. Just print them on your printer using cardstock, follow Ray O'Bannon's instructions with illustrations and you'll have some great haunted items to display at your Halloween Party or decorate your house or buffet table …
Just click the images on the page and you'll be taken to the Ravensblight website to select which of the coffins you'd like to print out.
Here are the links if you're a bit impatient:
This will give you quite a lovely selection of boxes to have around to decorate your home … or to hide some special sweet treats. I do like them all and have used those with a more square shape for other occasions when I needed an interesting treat box. A footlocker type of box is excellent for kids going to camp or college students going off to school … And, of course, all the ghost hunters who love spending time in cemeteries …
I'm a great fan of the haunted houses. Ray has quite a selection of these and even a grave yard … You can have some fun making a lot of his paper toys. I thought I saw a new one … The Gothic Chapel. It even has a hidden chamber …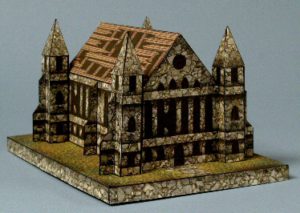 I do need to check it out … and you can, too. Click Here.
Sorry … I got a bit distracted. This always happens when I take a stroll on over to RavensBlight and look around. It definitely feeds my imagination and reminds me of Real Ghost Stories I've heard and collected over the years … Let me see if I have one that will go along with coffins, grave yards … and a Gothic Chapel … That definitely seems like a tall order … 
It seems that just about every place is haunted or has a haunted history … or ghost hunters or urban explorers spook themselves when they go out exploring and doing their 3 o'clock in the morning challenges. I know I can get a bit creeped out just walking around my backyard during the wee hours of the morning — I sometimes hear strange sounds I can't identify and wonder if they're paranormal in nature …
Here are two videos One by Patty of the G Team and the other by Stacy of Misguided Road Trips on a very scary adventure they had at The Shadow Cemetery out in the woods — far away from anywhere …
Patty of The G Team Paranormal Video:
Stacy's Video That Same Night …
Oh My Goodness!!
Cemeteries are definitely a bit creepy day or night, but for Patty and Stacy to go out there … what were they thinking??!!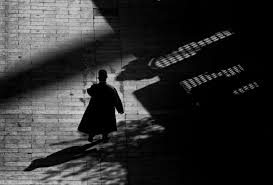 They had experienced shadow figures before. Could it have been a bear … or a person … or a ghost ?
It is good we have so very many ghost hunters who go out to known haunted places to capture video evidence of the paranormal. To prove that there is another realm that enteracts with us … All is fine when these "spirits" are friendly and mean no harm … I honestly can't say that what both women experienced was harmless … 
Grabbing Stacy's shirt and pulling her back … draining her of her energy … 
Knocking Patty down … that was scary!!
They were leaving … They meant no harm … I've heard that shadow people are mean and they will physically attack. I've been very fortunate that the shadow people I've seen out of the corner of my eye are scampering away … 
It does make you wonder what is going on …
I hope you enjoyed this post. It did go a bit all over the place … I do like to give you a bit of variety 🙂
Thanks for stopping by!
Sharon