I love robots!
LEGO did a wonderful job with this building and coding kit.
You will need a tablet for the coding to bring your creations to life. He's a video to show how to build this guy:
Do you believe it? And this is just one of the 5 you can make . . . that's right, you can only make one at a time . . . but with 5 kits . . .
Well, what do you think?
Build one of the 5 multi-functional robots and control them with the easy-to-use coding blocks on your tablet.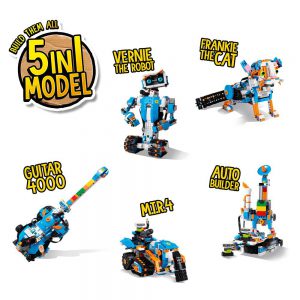 Vernie the robot is over 10 inches high.
Frankie the cat is over 6 inches tall.
M.T.R.4 is over 4 inches high, 9 inches long and 5 inches wide.
Guitar4000 is over 1 inch high, 16 inches long and 5 inches wide.
The Autobuilder is 10 inches high, 7 inches long and 6 inches wide.
The kit includes 847 pieces for ages 7 to 12 years of age . . . but I'm sure some adults will go absolutely wild for this LEGO kit.
I don't know if this is the gift that your kid is wanting, but it does seem to be quite popular and loads of fun to build and make move.
Here are some tablets and other products you may find helpful:
I hope this product review and the links above were useful.
Thanks for stopping by!
Sharon