I found these video tutorials awhile back and made up some of these bookmarks.
I had a great time because they're easy!!! And addicting! You can't make just one!!!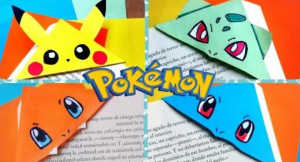 There's something kids can do . . . and with Back-to-School pushing into the forefront of our priorities, I wanted to give you something to do and for your children to do that would be useful.
I remember how popular those bracelets were and maybe still are that kids were making for their friends and family. Well, these may be the next thing . . . maybe not, but I know of several kids that have made money from their bracelets . . . so why not these bookmarks. I'm all for encouraging the young . . . we've come a long way from the lemonade stand of my day.
Paper crafts are my thing . . . so I'm enthusiastic about these bookmarks. I hope you will be, too.
This video tutorial will give you the basics and a great Pikachu bookmark.
And, here's the Pokeball bookmark.
I could go on and on about these bookmarks, but you may prefer to go through Red Ted Art's playlist and find the right ones you want to make. There are plenty of them . . . Angry Birds, Minions, even Sponge Bob and Finding Dory . . . Nemo, too. There are Emojis and all sorts of characters you may find appropriate for your particular style and interest.
Just as a thumbnail. I think she began with a 6 inch by 6 inch piece of paper, but she encourages you to experiment with different sizes and to use the scraps you have around. She sometimes uses origami paper, but colored printer paper works well, too. You may want to use a thicker paper for your embellishments such as beaks and ears so they don't get smooshed and torn with continuous use.
Once you learn the basics, you can create to your hearts content. They're great as Back-to-School gifts your kids can give their friends, but think about all the great Halloween characters you could make . . . those will really be fun! And you can skip ahead to Christmas . . . and even think about Valentine's Day . . .
But before we get too carried away, it's important to make up a few of them. There's no better way of learning than by doing. And teaching someone else . . . like your kids . . . I think they'll be a natural at it!
As you can see, these are easy to make and great fun to do!
Thanks for stopping by!
Sharon