RoosterFin has another fun game for me to review!
It's Lumpy Cubes Family Board Game — Hero Edition for 1 to 4 players ages 6 years and up.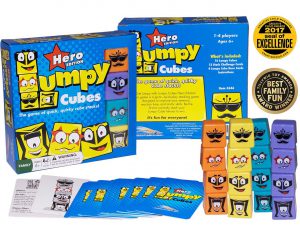 This game focuses on the skills of:
Memory
Reaction Time
Motor Skills
The game consists of:
16 Plastic Cubes with a clear plastic storage tray
12 Stack Challenge Cards
4 Lumpy Cube Hero Cards
Simple Instructions
Let's watch the game in action:
That seems simple enough!!
But can you match the pattern faster than your opponents?
This is truly a fun game for the whole family!
Young and old alike will enjoy this game!!
You can also play alone . . . set a timer and see if you can beat the timer. Or you may time yourself with a stop watch to beat your best time.
There are many ways to enjoy this game.
You may also enjoy:
Well, that was fun!
I'm sure your "wish list" has grown!!
Thanks for stopping by!
Sharon