Here's a frightening pair of Monsters you can make along with the rings.
This is a good use for the old boxes you have ready for the recycle bin. I think making a game would be a better use for the cardboard. And it's a great way to keep the kids busy when school is out.
This Monster Ring Toss Game could be a bit mild and too easy for those with great hand-eye coordination . . . but the distance does make it a definite challenge. It's a fun game for home, either playing alone or playing with others — you could also do a right-hand vs. a left-hand toss. It would be easy to come up with variations to the game. I was wondering about adding a spring to the bottom of them, so they would be moving. A moving target is more difficult to catch than a sitting one. I'm sure you can come up with variations that would be age approriate.  You don't want it too easy . . . or too difficult.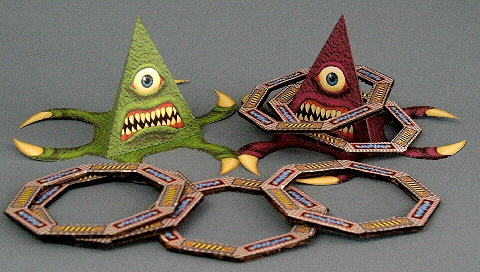 Monster Ring Toss Assembly Instructions
I hope you'll make this ring toss game, it should be a lot of fun for the kids and adults alike.
Thanks for stopping by!