I love board games and one that is fun for all ages, that's a definite bonus!
This Ninja Squirrels Family Board Game is recommended for ages 7 years and up.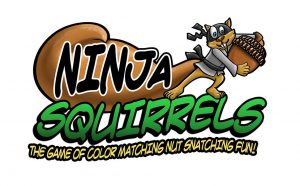 The game reinforces color recognition and motor skills — This fast paced game is about color matching and acorn snatching by RoosterFin.
The object of the game is to collect the most acorns. Players take turn flipping cards looking for a color match. Be the first to grab the right acorn and you may be on your way to becoming the winner of the game.
Ninja Squirrels is for 2 to 4 players and consists of:
60 cards
4 Ninja Character cards
4 Battle Ring pieces
20 Acorns
Instructions
This is a fun game for all ages and would be great for your family game night.
You may also enjoy:
Thanks for stopping by!
Sharon