I received a notification that several of my posts are lost.
That happens from time to time. It's nothing for me . . . or you to get upset about.
At one time I moved this website and didn't back it up — so everything, back then, was lost. It was sad for me and sad for many of my visitors. But I started over . . . and through time, some links get broken and some posts do get deleted . . . so if by chance you've been looking for something here at TwoCansOnAString.com and get an error . . . hopefully, you'll see the image to the right, with the word "oops!" to the left.
Just click the image and you'll be taken to the Home page.
We make every effort to keep this website fresh and fun for all of you. We don't like it that from time to time things get broken, but there is a lot of stuff here. Some old, some not so old, some new.
I realized I am really heavy on Halloween . . . maybe you like that . . . and maybe not.
We do have product review and crafts and holiday stuff, along with random thoughts. TwoCansOnAString.com is my fun website — it's where I was able to introduce my little Diva — the Yorkshire Terrier from wonderful breeders from Wisconsin. It's also where I can tell you about products that caught my eye and all the fun holiday stuff — I may even have a ghost story or two to tell you from time to time.
It's Raining!!! What am I to do?
Well, I think crafts are in order. I do my best crafts when it's raining and I don't want to go out — but today I may venture out and pick up some grocery items. Little Diva wants something different . . . not a toy, but something delicious to eat. And I'm due for something different, too.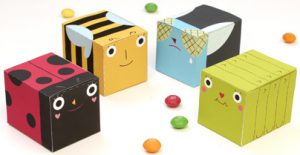 But, I did get side-tracked there for a moment. Crafts . . . what do I want to make? What do I have that I haven't shared with you before?
Mr. Printable has some adorable bug boxes you can download and print out on your home printer. They're great for spring and summer. These favor boxes are easy to assemble and fun to fill with goodies. Just click the image to the left and you'll be taken to the page where you can download these adorable bugs.
I definitely like them. They may have been designed for younger children in mind, but I think they are suitable for everyone this spring and summer. They would look nice in Easter baskets, too. You know, come to think of it, instead of an Easter Egg Hunt, you could have a Bug Box Hunt . . . what do you think?
I believe you could have some serious fun with these Bug Favor Boxes.
Until next time,
Sharon . . . and Little Diva