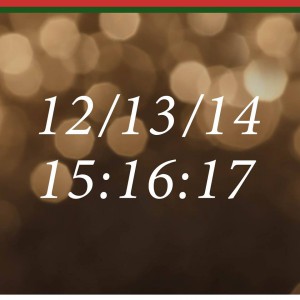 Donny Osmond posted this on his Facebook page. Of course it was picked up by others who reposted it and here I am reposting it.
He wrote: 
There are some moments that only happen once in a lifetime — Dec 13 at 3:16 pm is just an example — 12/13/14 15:16:17.
What is one thing you haven't done before, that you've always wanted to do — even just once — but, you never did?
I'm in the process of writing a novel. I've written and published 3 children's books, so maybe it's something.
Then I got thinking of a post I put up on http://gameboarddiva.com I was reviewing a game and I got thinking about it and how I would add to it. I was also amazed that a child and her sister created a card game and got it published for other kids to play and enjoy. 
Yes, I would like to create a board, card and/or dice game and have some company publish it for me. It would be quite an accomplishment to be a game creator, in my opinion for me.
Something to think about!
Thanks for stopping by!