Paper Girls — Amazon Original Series
Wow! This Amazon Original Series is Science Fiction, Adventure, Fantasy, Action, Suspense, Horror and Drama all rolled into one fantastic series. I've watched the first episode and I'm hooked.
There are four girls with different backgrounds all coming together the day after Halloween known as Hell Day . . . They are paper girls — delivering the morning paper — It is first set in 1988 and they time travel to 2019 . . . 
I'm not into giving spoilers — I want you to watch it and enjoy it for yourself.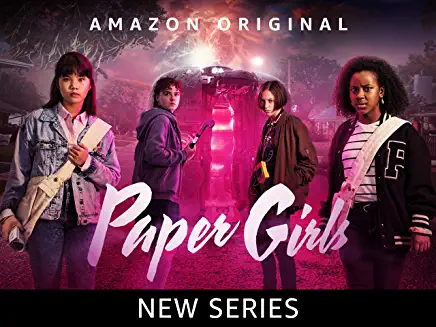 All that I can say is the 2019 depicted in this series has elements I'm pleased were not part of my personal reality . . . This is a gripping tale that has you sitting on the edge of your seat.
I do like putting myself in the action and thinking about how I would deal with the situation . . . The concept of time travel is something I'm intrigued by, but don't necessarily want to experience.
I highly recommend that you check this series out and see how it resonates with you. 
This Is An Exciting 2022 Amazon Original Series
It's directed by Georgi Banks-Davies
Destiny Ekaragha Karen Gaviola Mairzee Almas and starring Camryn Jones Riley Lai Nelet Sofia Rosinsky and Fina Strazza .
Stephany Folsom Christopher Cantwel
The first season of this series has 8 episodes. As with other Amazon Prime Series, I am always wanting more . . . So I do hope there is more to come in the future . . .
This seems like an unlikely group of girls who would be friends. Yet they all have one thing in common — paper routes . . . And then the strange experience of some sort of invasion — They decide to stick together . . . Then they are on a quest to return back to 1988 . . .
It is interesting for them to see what 31 years in the future brings . . . And then again 21 years . . . This does make me wonder what my goals and dreams were about my future when I was 12 years old. Did I really think about the future and what work I would be doing? My concern was probably focused on getting through my school work . . . I was very much a nerd.
I do hope you check out Paper Girls. And if you do, please leave me a comment below . . .
Thanks for stopping by!
Sharon