I love mine!! It is wonderful for Crafting, Designing and Cutting.
What I especially like is creating my own images to cut out.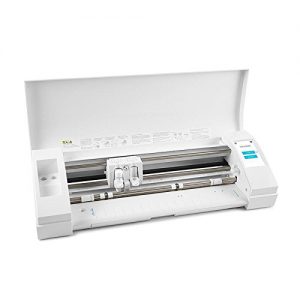 For example, I love gingerbread boys and girls . . . and I wanted to dress them up — overalls and an apron . . . I had a stamp and a punch for the gingerbread kids, but I needed to design my overalls and the apron. I was able to design it, cut it out and make adjustments as necessary to fit on my gingerbread punch outs.
Plus, I could have had the Cameo cut out my gingerbread kids.
I find the Silhouette Cameo easy to use and to create some truly fun projects. I can make templates for boxes and bags and the Cameo will cut them out for me. All I need to do is decorate them and assemble them.
This is truly a time saver for me when I have dozens of cards or boxes to make at one time.
It is a "must have" in every craft room!
You may also like:
It is worthwhile for you to check out other cutting machines in order to find the one that works best for your needs.
Thanks for stopping by and shopping with me!
Sharon