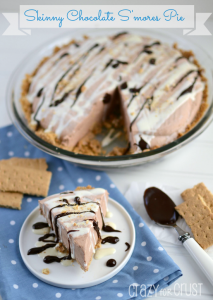 This is S'Mores Season for me! Anything s'mores is a definite winner as far as I'm concerned . . . and a s'mores pie, a whole s'mores pie for family and friends to enjoy . . . priceless . . . and a skinny s'mores pie? Is that even possible? Yes, yes it is!!
Well, let's get started with this recipe!!!
Skinny Chocolate S'Mores Pie
Ingredients:  (These ingredients are for a sugar-free or low-fat pie, but since you're making it, make it as you like)
8 sheets of finely ground low-fat Graham Crackers
4 tablespoons of melted light or regular butter
6 ounces fat-free cream cheese
4 ounces low-fat cream cheese
2 tablespoons cocoa powder
2 tablespoons of your favorite non-sugar sweetener — less is more with some sweeteners
2/3 cup of low-fat chocolate coffee creamer
8 ounce tub of fat-free whipped topping
Marshmallow Ice Cream Topping for garnish is optional
Hot Fudge or Chocolate Ice Cream Topping for garnish is optional — sugar-free or regular
Directions:
Mix up the graham cracker crumbs with melted butter in a small bowl.
Press into a 9-inch pie pan. Freeze until you're ready to fill it up.
Get out the mixer with the paddle attachment and beat the cream cheese until smooth.
Beat in the cocoa, sweetener and coffee creamer.
Gently fold in the whipped topping.
Bring out your pie shell and pour the ingredients into it.
Freeze for at least 4 hours or overnight.
Bring your pie out of the freezer and drizzle with the marshmallow and chocolate ice cream toppings before serving.
Wait about 15 minutes before serving.
There you go! It is basically a skinny chocolate s'mores pie with some sugar added. I don't mind some low-fat ingredients, but I don't like the non-sugar sweetener. This is just my thing. You make your pie however you wish. That's what's great about recipes. You can do it your way.
Have fun and enjoy!
Thanks for stopping by!!