I enjoy being prepared for when family and friends visit. It's always nice to have something different or a favorite you know will please. Betty Crocker has never let me down when it comes to finding something different and delicious. There's pure satisfaction when you see the platter of pretzel bites empty and the dipping sauce bowls wiped clean. So, I can say without a doubt these recipes are winners around my house.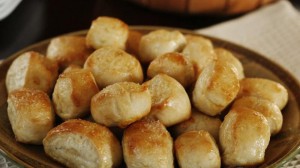 Image Compliments of http://www.bettycrocker.com
Soft Pretzel Recipe
Ingredients:
1 package dry active yeast
1 1/2 cups warm water
1 tablespoon granulated sugar
4 cups all purpose flour
1/2 teaspoon salt
1 large egg
Coarse salt
1 tablespoon unsalted butter
Directions:
  Preheat oven to 425°F degrees.
 Line a baking sheet with parchment paper.
 In a large bowl, combine the yeast and warm water. Let sit for 2 to 3 minutes until the yeast dissolves.
 Add sugar into the yeast mixture, stir until dissolved.
 Add the flour and salt. Stir until combined. The dough will be crumbly.
 Turn the dough out onto a floured board and knead with floured hands until smooth.
 In a small bowl, lightly beat the egg and set aside.
 Divide the dough into 5 portions. Working with one at a time, roll the dough balls out into ropes that are about 1 inch in diameter. Use a sharp knife to cut 1-inch lengths of dough.
Drop each of the dough pieces into the egg mixture and immediately transfer to the prepared baking sheet. Place them about 1/2 inch apart. Sprinkle with coarse salt.
Place the tray into the oven and bake for 8-10 minutes, until golden brown. Repeat the process until all the dough has been cooked.
Melt the butter and brush all the pretzel bites with butter, then sprinkle with more salt, if desired.
Now, for the sauces. Let's see:  Guacamole sounds good. You'll need:
2 large ripe avocados, pitted, peeled and mashed
2 medium tomatoes, finely chopped (1 1/2 cups)
2 jalapeño chilies, seeded and finely chopped
1 medium onion, chopped (1/2 cup)
1 garlic clove, finely chopped
2 tablespoons finely chopped fresh cilantro
2 tablespoons lime or lemon juice
1/2 teaspoon salt
Dash of pepper
Mix up all the ingredients in a glass bowl, cover and set in the refrigerator for about an hours to allow all the flavors to blend.
How about Blue Cheese Dipping Sauce:
Ingredients:
1/3 cup cottage cheese
1/2 teaspoon white wine vinegar
2 tablespoons milk
1 tablespoon crumbled blue cheese
1/8 teaspoon white pepper
1 garlic clove, finely chopped
Directions:
 Get out the blender or food processor and put in the cottage cheese, vinegar, milk, half of the blue cheese, the white pepper and garlic.
 Cover and blend on low speed until smooth and creamy.
Pour into serving dish.  Stir in remaining blue cheese. Cover and refrigerate until ready to serve.
These sauces are favorites around my house, but there's always pizza sauces and ranch-style sauces you may want to try. You may have the perfect sauce already in mind. That's what is so wonderful about these soft pretzel bites, they go with just about everything.
Enjoy and Thanks for stopping by!