I suppose you could make these any time, but for some reason sweet potatoes come to mind in the fall and stay there through the holiday season. But, it could be a good one to remember for your Super Bowl Party . . . introduce it now and you'll have requests for it from now on . . . And, don't tell them it's a healthy snack which has pretty much turned into a meal. 
Sweet Potato Skins With Chipotle Chicken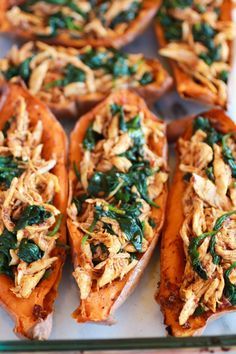 Ingredients:
3 medium sweet potatoes
2 small boneless skinless chicken breasts
1/4 cup olive oil
2 tablespoons of fresh lime juice
2 minced garlic cloves
2 minced chipotle peppers
1 teaspoon dried oregano
1 teaspoon cumin
2 teaspoons chili powder
salt and pepper
2 cups fresh spinach
5 ounces grated sharp white cheddar cheese
chopped cilantro for garnish
serve with Greek yogurt
Directions:
Preheat oven to 350 degrees.
Wash the sweet potatoes and prick all over with a fork before placing them in a baking dish and popping them in the oven to bake for 45 minutes to an hour.
Place the chicken in a baking dish and rub with a tablespoon of olive oil (salt and pepper if you like).
Bake in the oven for 25 minutes.
Allow the chicken to cool before shredding it.
When the sweet potatoes are done, but them in half and allow to cool for 5 to 10 minutes.
In a medium sized bowl combine the olive oil, lime juice, garlic, chipotle peppers, oregano, cumin, chili powder, salt and pepper and set aside.
You're going to want to wilt the spinach — you can do that in a small skillet over medium heat or in the microwave.
Toss the spinach and shredded chicken together, set aside, but keep warm.
Turn the oven up to 400 degrees.
Scrape the sweet potato out of the peel, leaving a medium size layer of flesh inside with the peel so it can stand on its own and place in a baking dish.
Brush the skins with a little of the chipotle sauce and back for 5 to 10 minutes until crispy.
While the skins are baking, mix the spinach, chicken and chipotle sauce together.
Remove the skins from the oven and stuff with the chicken mixture.
Top with shredded cheese and bake for 10 minutes or until the cheese has melted and the skins are hot and crisp.
Serve with fresh chopped cilantro and Greek yogurt.
This is a healthy treat the whole family will enjoy.
Leave me a comment.
Thanks for stopping by!
Sharon