I love apple pie however I can get that delicious taste.
A cookie would hit the spot just about now.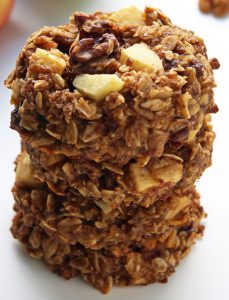 Especially one with all the ingredients of an apple pie with walnuts and raisins and diced apples to give it a satisfying crunch. These would be great for breakfast, as a snack for the kids or just any time a cold glass of milk would be welcome . . . or with coffee or hot chocolate. These would be excellent all year round.
I'm not a walnut fan, but I do like almonds. Or you can forget the nuts . . . and the raisins . . .
Fix these however you like . . . That's the fun of making things yourself.
Apple Pie Cookies
Ingredients:
1 cup old fashioned oats
1 cup quick oats
1/2 teaspoon salt
1/2 teaspoon nutmeg
1/2 teaspoon cloves
2 eggs, beaten
1/2 cup unsweetened apple sauce
1/2 cup cane sugar
1/4 cup oil
1 cup diced apple pieces
1/2 cup chopped walnuts or a nut of your choice — or not nuts at all
1/2 cup raisins — or not
Directions:
Preheat oven to 350° F.
In a large bowl stir together the oats, salt and spices.
In a small bowl whisk the eggs, apple sauce, sugar and oil. Add to the dry ingredients and stir until combined.
Fold in the diced apples, nuts and raisins.
Drop 1/4 cup size portions of batter onto a parchment lined baking sheet.
Flatten the cookies a bit.
Bake for 15 to 20 minutes until set.
Allow the cookies to cool on the baking sheet before transferring them to an airtight container.
This recipe makes about a dozen cookies.
Have fun and enjoy!
Sharon