The Mysterious Benedict Society by Trenton Lee Stewart and illustrated by Carson Ellis is the first of four books for ages 8 to 13 years — grades 3 to 7.
This is a story about a gifted young man, orphaned at a young age who needs encouragement and a place where he belongs and can explore his talents and strengths.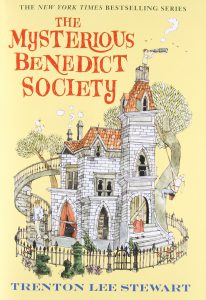 Too often children feel like misfits . . . as adults we went through that phase as well and it's excellent that there are books addressing this issue and seeing how such a kid can strive and do something productive and maybe become a hero.
This is a series of four books . . . all full of adventure that will get your child reading . . . and you, too, right along.
It's always good to read the books your children are reading so you can have some interesting discussions with them. Ask how they feel about the characters and what they think will happen next . . . and you can give your thoughts and feelings as well. It's not about who is right or wrong, but the engagement . . . the active participation of thinking ahead . . . gathering information . . .
I enjoyed these books and believe you and your child or children will too.
Here are some helpful links for your shopping pleasure:
Thanks for stopping by!
Sharon