Listening to the rain . . . it is gently lulling me to sleep . . . 
But . . . I want to do a fun product review of the book The Magic Misfits by Neil Patrick Harris.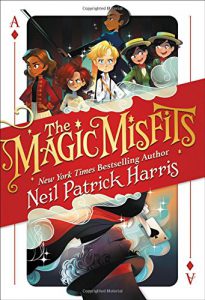 I was drawn to the colorful cover and how I felt drawn into the image. Being a papercrafter and getting more into making cards, I found the cover art quite intriguing. I wanted to do something equally "magical" and intriguing with the stamp and dies I have . . . Perhaps to make a card or for a mini-album story of my own . . . alas I digress . . .
This is a fun read for ages 8 to 12 years. If your child is a Lemony Snicket and Pseudonymous Bosch (love the names) fan, then The Magic Misfits is right up their alley.
The Magic Misfits are a diverse group of kids . . . they are unique and interesting . . . they come from different economic levels, same sex parents and one of the kids has a disability. This makes for a delightful set of new found friends who set out to solve a mystery.
I do love this book. I understand it is the first in a series . . . something for children and adults to anticipate.
I believe The Magic Misfits is a great book and a must read . . . even reluctant readers will find this book hard to put down.
You may also want to select another book for your child:
Thank you so much for stopping by!
Sharon
.